A BLAZING RETURN TO BUSINESS: POST AFFORDABLE ART FAIR CRAIC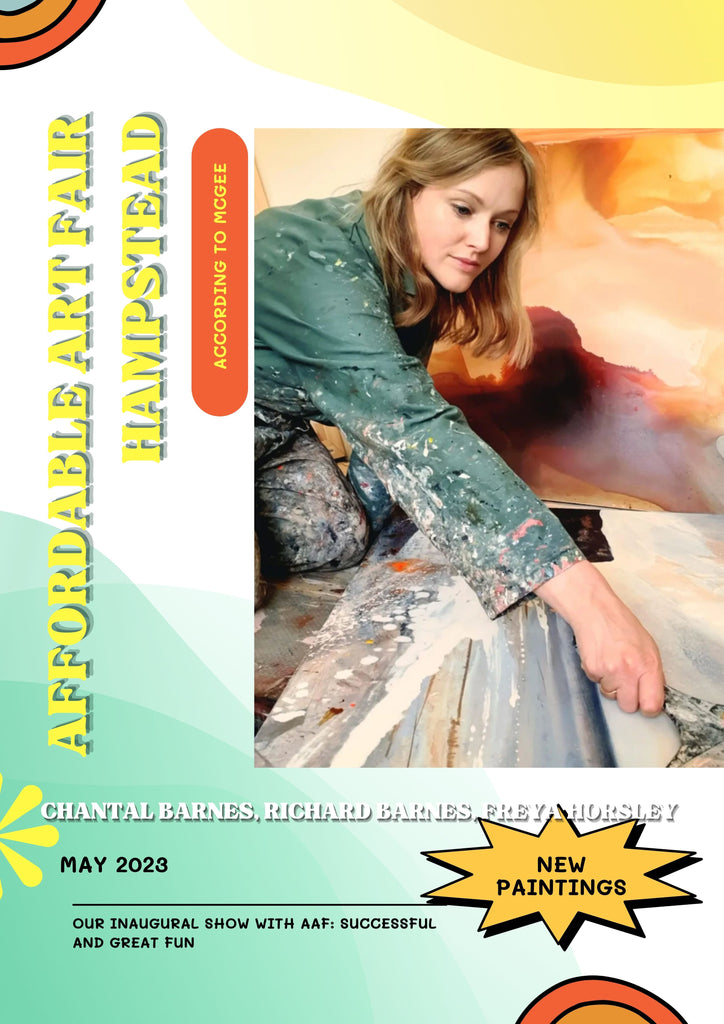 Affordable Art Fair, you were GREAT!
Culture, fun, and commercial success: we feel vindicated and we're delighted to welcome new clients with taste and discretion.
We have some hot new coming soon.
In the meantime, here are a few images chronicling our exhibition last months.
York art gallery According to McGee enjoyed a 'blazing return to business' after a 8 month sabbatical with a successful exhibition at globally celebrated 'Affordable Art Fair Hampstead'.
"It was a brightly coloured reminder why we need to celebrate art as gallerists", says Greg McGee, "We'd spent months visiting galleries. York Art Gallery was a great touchstone, as were locations further afield. Yorkshire Sculpture Park, Middlesbrough's MIMA, even trips to Belfast's thriving independent art galleries gave us a much needed shot in the arm. The York experience can at times be a little insular, both from a purveyors' and consumers' point of view, so the idea of re energising ourselves made perfect sense."
It was with this outward looking instinct that the McGees, Ails and Greg, have focused energies on Affordable Art Fair Hampstead. "We wanted to stretch our curatorial wings outside of Yorkshire," says Ails, "The Affordable Art Fair is a whole different level of quality and serious collecting. They now hold fairs in 10 cities around the world including London, New York, Hong Kong, Hamburg, Amsterdam, Brussels, Singapore, Stockholm, Melbourne and Sydney. They are dedicated to sharing the importance of loving art, and, when possible, collecting it. On a micro-level, that's what we do too. So we approached them and they accepted us, and the rest is history. The most important aspect, however, was finding the right artists."
According to McGee's final exhibition opposite Clifford's Tower, ( see https://fb.watch/jpif4qmZM4/ ), was a celebration of 3 painters Richard Barnes, Chantal Barnes, and Frya Horsley, and their then current collections. 
Richard Barnes, who moved from York in 2020, brought  his new collection to a wider audience. Says Richard, "For 17 years I worked on painting York in new ways. The concept of the cityscape was there to be pulled and played with, and the iconic visuals of York was perfect for that - being cheeky, being innovative, reinventing. Now it feels right to focus on London. There are so many stories, so many layers of history to capture. I'm really pleased with this collection, and it was great to reveal them at Hampstead with According to McGee."
Chantal, Richard's daughter, is an increasingly collectible painter with collections already gracing international walls and a rapidly emerging reputation of a well regarded artist. This was her first time at an Art Fair. "The vigour with which Chantal pushes paint around is exciting and relevant and indicative of where contemporary painting is today. Both Chantal and Richard have studios not far too apart, and sometimes they even collaborate on the same piece. There's a wonderful synergy between the two of them, whether that happens to be on the same canvas or two canvases in close proximity, and this show was an exciting opportunity to witness that."
Freya Horsley created new collections for the exhibition. She says, "Whilst the internet makes artists and galleries increasingly global in their reach, the Affordable Art Fair was an exciting because it's absolutely about seeing real artwork up close and in person. The physical presence of a painting and the way it can change a space is increasingly exciting. Working towards the fair gave me a really strong focus and an opportunity to make big impactful pieces as well as smaller more affordable paintings . Alongside Richard and Chantal, I feel we reached a new audience in this prestigious setting.''
Ails McGee is keen to build on the success. "The future's bright. Going forward, this is going to be about more than sales. The amount of global attention each Affordable Art Fair receives is simply huge, and we're looking forward to bringing some of that gold dust back to when we reopen a gallery space in York."
"It's this progressive, outward looking energy that I think serves York so well," says Greg, "Us looking outwards to bring back energy and calibre is what in essence a heritage city like York is obliged to do at this moment in time, for all kinds of reasons. Unless you want to become Beamish, history only works when you have one foot firmly planted in an innovative future. And rather than being a footnote in the annals of York's creative scene, we would much prefer to be part of the future than the past. The art of Richard Barnes, Chantal Barnes, and Freya Horsley has always flown the flag for what contemporary painting can do, and we're excited as to what this new approach can bring."
---