According to McGee at Affordable Art Fair Hampstead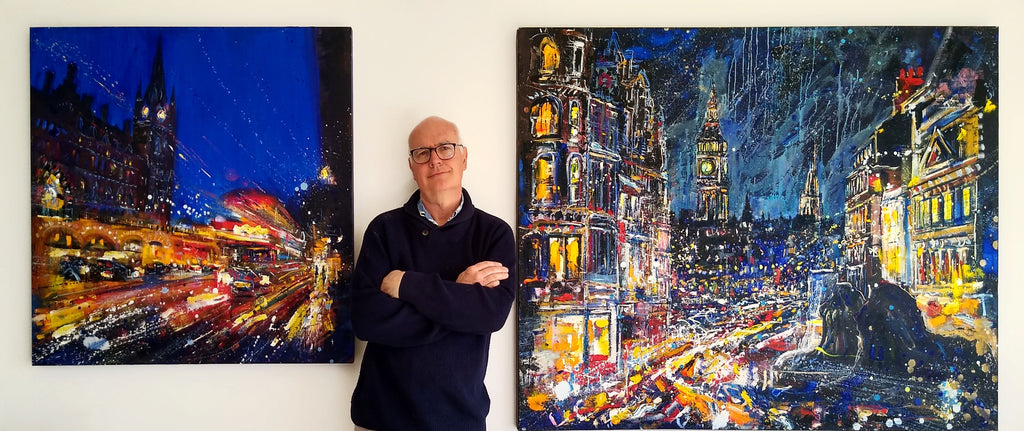 According to McGee brings Chantal Barnes, Richard Barnes, and Freya Horsley to Affordable Art Fair Hampstead 2023
This is an shortened version of an article which first appeared in Charles Hutchinson's online blog: https://charleshutchpress.co.uk/york-gallery-according-to-mcgee-exhibits-richard-and-chantal-barnes-and-freya-horsley-at-affordable-art-fair-hampstead/
York art gallery According to McGee is making plans for a return to business after a 7 month sabbatical. "We've been busy reminding ourselves why we need to celebrate art as gallerists", says Greg McGee, "York Art Gallery has been a great touchstone, as have locations further afield. Yorkshire Sculpture Park, Middlesbrough's MIMA, even last week's trip to Belfast's thriving independent art galleries gave us a much needed shot in the arm. The York experience can at times be a little insular, both from a purveyors' and consumers' point of view, so we've been getting out and coming back feeling re-energised."
Greg and Ails McGee outside their former According To McGee gallery in Tower Street, York. Relocation plans are ongoing
It is with this outward looking instinct that the McGees, Ails and Greg, have focused their energies on Affordable Art Fair Hampstead. "We wanted to stretch our curatorial wings outside of Yorkshire," says Ails, "The Affordable Art Fair is a whole different level of quality and serious collecting. They now hold fairs in 10 cities around the world including London, New York, Hong Kong, Hamburg, Amsterdam, Brussels, Singapore, Stockholm, Melbourne and Sydney. They are dedicated to sharing the importance of loving art, and, when possible, collecting it. On a micro-level, that's what we do too. So we approached them and they accepted us, and we're looking forward to exhibiting with them in Hampstead in May this year."
In gallant company: we're with the top UK and international galleries exhibiting at the 2023 edition of Affordable Art Fair Hampstead, 11 - 14 Mayhttps://affordableartfair.com/fairs/london-hampstead/exhibitors/
Though the McGees are purposely basing this latest chapter of their gallery's evolution outside of York, it's a cohort of artists with strong links to York that is leading the way. "At this stage of our career and with this specific project, it's important for us to work closely with artists we actually personally like!" laughs Ails, "So we're handing our exhibition space over to Richard Barnes, Chantal Barnes, and Freya Horsley. The three of them have a painterly synergy that has been hugely successful for us in the past, and will help steady the ship as we sail into unknown waters." 
Richard Barnes with one of his new metropolitan artworks after his move south from York
According to McGee's final exhibition opposite Clifford's Tower, ( see https://fb.watch/jpif4qmZM4/ ), was a celebration of all 3 painters and their then current collections. Will the Affordable Art Fair exhibition provide an opportunity for international visitors to enjoy what art lovers in York have been able to experience, namely 3 seascape and cityscape painters who have been well regarded for years? "That's a good question," says Greg, "And the answer helps us distill what we do best. We celebrate contemporary painters, painters who relentlessly evolve, and yearn for the next chapter. It's not in the nature of any of our painters, especially Richard, Chantal, and Freya, to fossilize their output and become complacent. Their current compositions and mark making have all the experimental derring do of white hot graduates out of a world class art school with points to prove and paintings to sell. You don't get to sell as well as these three, nor do you get invited to exhibit at a globally recognised art event such as Affordable Art Fair Hampstead, without having something exciting and relevant to say."
Richard, who moved from York in 2020, is excited to bring his new collection to a wider audience. Says Richard, "For 17 years I worked on painting York in new ways. The concept of the cityscape was there to be pulled and played with, and the iconic visuals of York was perfect for that - being cheeky, being innovative, reinventing. Now it feels right to focus on London. There are so many stories, so many layers of history to capture. I'm really pleased with this collection, and I'm looking forward to revealing them at Hampstead with According to McGee."
Richard Barnes with two of his new metropolitan artworks after his move south from York
Chantal, Richard's daughter, is an increasingly collectible painter with collections already gracing international walls and a rapidly emerging reputation of a well regarded artist. This is her first time at an Art Fair. "The vigour with which Chantal pushes paint around is exciting and relevant and indicative of where contemporary painting is today. Both Chantal and Richard have studios not far too apart, and sometimes they even collaborate on the same piece. There's a wonderful synergy between the two of them, whether that happens to be on the same canvas or two canvases in close proximity, and this show is an exciting opportunity to witness that."
Chantal Barnes and Richard Barnes: According To McGee regulars heading for next month's Affordable Art Fair Hampstead in London
Freya Horsley has been working on new collections for the exhibition. She says, " Whilst the internet makes artists and galleries increasingly global in their reach, the Affordable Art Fair is exciting because it's absolutely about seeing real artwork up close and in person. This is something that Greg and Ails have always celebrated and promoted in their York gallery - the physical presence of a painting and the way it can change a space. Working towards the fair has given me a really strong focus and an opportunity to make big impactful pieces as well as smaller more affordable paintings which is part of the rationale of the AAF. Alongside Richard and Chantal, I'm looking forward to showing our work to a new audience in this prestigious setting.''
Gallery director with internationally well regarded painter Freya Horsley
Ails McGee is keen to build on this latest stage. "This is going to be about more than sales. The amount of global attention each Affordable Art Fair receives is simply huge, and we're looking forward to bringing some of that gold dust back home when we relocate in York."
AFFORDABLE Art Fair Hampstead presents contemporary art from 100 London, UK and international galleries from May 11 to 14 at Lower Fairground Site, Hampstead Heath, London. Works are for sale at £50 to £7,500.
Visitors can enjoy an art-filled day out with installations, curated displays, rising star artists from University of the Arts, London and Jackson's Painting Prize, plus bars and cafés. Expert advice is available from the fair's new art consultancy service "to help make finding your dream artwork a breeze".
Opening hours are: May 11, general admission, 11am to 5pm; Late View, 5pm to 9pm. May 12, 11am to 5pm, Art After Dark Late View, 5pm to 9pm. May 13 and 14, general admission, 11am to 6pm; Weekend Family Hour, 11am to 12 noon. Tickets: https://affordableartfair.com/fairs/london-hampstead
---