As we ready for a new Dave Pearson exhibition, here's a look back at 2014's show.
/ By According To McGee Admin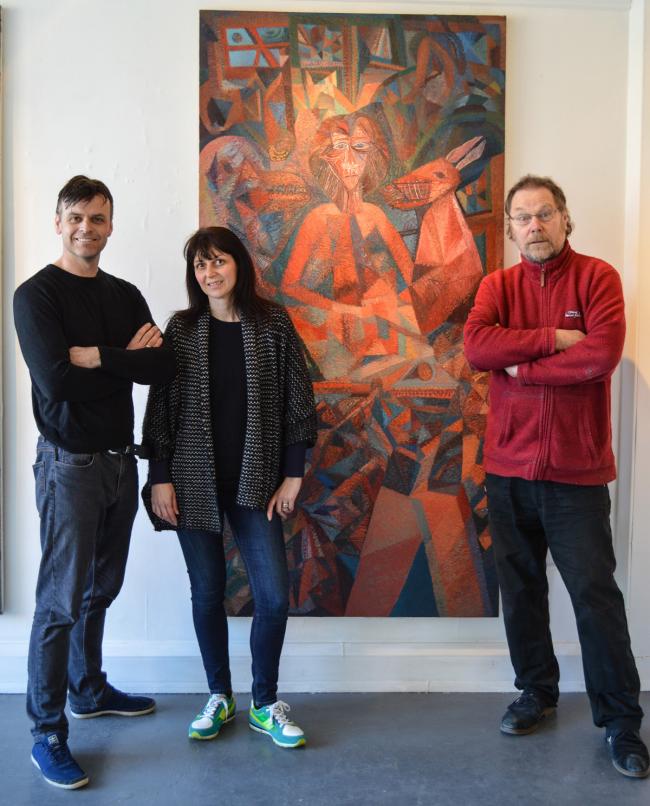 ACCORDING To McGee is exhibiting the work of "one one of the most crucial but overlooked artists of the past 50 years" as part of the York gallery's tenth anniversary celebrations.
"It's not just us who make that claim for Dave Pearson," says co-director Greg McGee, "When Dave died in 2008, at the age of 70, his obituaries in the Guardian and on BBC Radio 4 celebrated him as a 'great British painter' and 'the greatest painter we never knew', and art critic Edward Lucie Smith hailed him as 'a really major artist'.
"The value of the full collection of his works, now overseen by the Dave Pearson Trust, made national news as experts believe it's in the millions of pounds. We made pre-exhibition sales to collectors from all over Britain before we'd even finished hanging. It's no secret that this work has a genuine investment quality. So it's fair to say we're very excited to showcase Dave Pearson: Colourist'."
Pearson was a tutor at Manchester School of Art and exhibited widely, but by all accounts he was oblivious to the outside world, says Greg, However, his reputation has grown rapidly since the revelatory Byzantium And Beyond exhibition curated by Edward Lucie-Smith and Margaret Mytton at the Bermondsey Project Gallery, London in 2012.
"Dave Pearson: Colourist is one of the few subsequent exhibitions of Pearson's work, and it explores his development as a master colourist," says Greg. "It's also an opportunity to view some of the artist's smaller oils and gouaches in an intimate white-cube setting, contrasting with the London exhibition that was dominated by epic large-scale canvases."
This exhibition forms part of According To McGee's Trailblazers of Contemporary Art series. "Anyone who has any reservations about whether painting is important in the 21st century has to come and see this show," says Greg. "Sometimes it's paint and paint alone that can make you gasp, and marvel, and think, 'I could never do that'. Dave continues to blaze a trail, because in this era of artistic performances, installations and videos, an exhibition like this hammers home just how powerful a paintbrush in the right hands can be.
"It's his obsessional, passionate energy that you can't fake. You can see it from looking at one painting or a gallery full of them. He could switch from aggressive, primitive mark making to delicate, mischievous strokes, often on the same canvas. When you have that amount of passion, it has to come out in some way, and for Dave it obviously had to be painting. In ten years, we've never seen anything like it in terms of relentless energy at the gallery."
Greg and co-director Ails McGee were "were more than happy" for Bob Frith, director of The Dave Pearson Trust, to take the lion's share of selecting and  curating the show. "When Dave Pearson died, there was great interest in the national press that such a prolific and important artist could have been overlooked during his lifetime," says Bob. "The fact that he left behind well over 10,000 art works was also much commented on, and that's when a small group of friends and family established the trust to look after his legacy and work.
"In 2010, the filmmaker Derek Smith directed a full-length film, To Byzantium, about Dave and his work, which has been shown regularly and to great acclaim on the Community Channel. In 2012 there was the major show in London, which helped further enhance his growing reputation, and now According To McGee is home to this major new exhibition tracing the development of Dave Pearson's special sense of colour. The Dave Pearson Trust is  delighted to be part of this new unfolding chapter in the story."
Charles Hutchinson
---