David Baumforth, "the Turner of the North"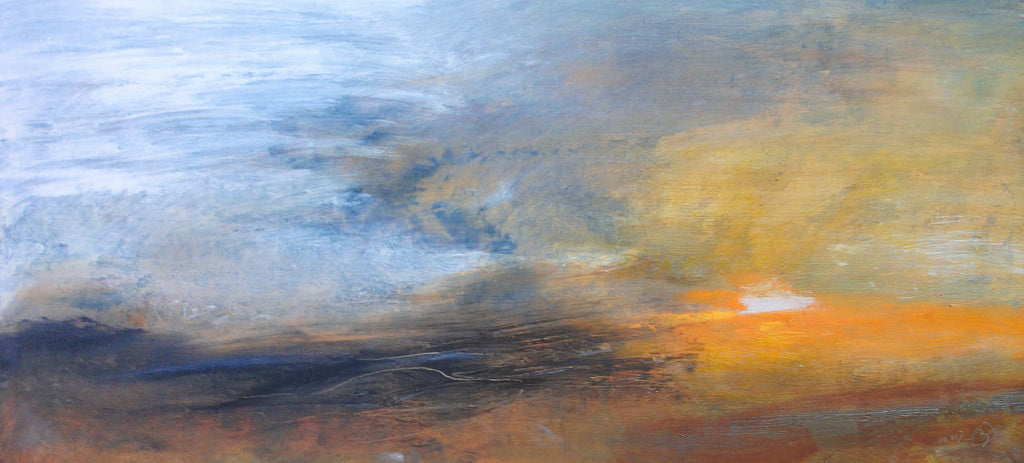 DAVID Baumforth, "the Turner of the North", as Greg McGee calls him, returns to According To McGee in York from September 16th in a duo show with Freya Horsley. The York-born seascape painter and favourite of art critic Sister Wendy will be unveiling his latest collection of paintings for Elementals: Contemporary Depictions of the North.
"This is going to be a great exhibition," says Greg, who showed his previous Baumforth series in January 2016. "As far as we're concerned, this is the show when David can finally flex his muscles and come up with a bespoke collection that shows everyone – us, his fellow painters, and his growing army of collectors – where he is at, and just how well his practice has blossomed.
"Everything in this exhibition is primed especially for this show. David's last solo show here, Yorkshire And The North East Coast, was a tremendous success, but it was made up of paintings from different eras and different mindsets.
"This is different. The ink is still wet and the artwork is hot off the press. For an artist of Baumforth's calibre to bring a brand new collection here is not only a coup for us, it's a great result for the city."
Co-director Ails McGee believes Baumforth's new paintings are "nationally important". "Very few painters can inject the kind of energy into a seascape that a twenty-something, fresh-off-the-block 'enfant terrible' would bring to a debut show, but every painting David brings us looks as if it's been painted by someone who's seeing the world for the first time," she says. "I've heard a lot that landscapes and seascapes are a relic of last century, but David kicks that lie into touch."
Baumforth, the recipient of the Not The Turner Prize in 2003, works out of his home studio at The Corridor Gallery, Lowgarth, Pickering Road East, Snainton, near Scarborough. He first exhibited at According To McGee in 2004, and the McGees have enjoyed a 13-year relationship with a Yorkshire artist Greg fondly describes as a "straight-talking, short-tempered art rebel".
Regarding this notorious irascibility, Ails says: "David's paintings have become edgier while he's become more mellow! Seriously, it's part of the package, and his work has his character written all over it."
Baumforth is looking forward to this month's return to his native York. "It feels right to be exhibiting in a duo show in York at this stage of my career, especially with such a talented artist as Freya Horsley," he says.
"My style may have slightly changed, but I'm not interested in gimmicks. The Yorkshire Moors and its coastline are a constant source of inspiration for me. I'm happy with my work, so I feel no need for change. I'm always happy to exhibit them in According To McGee as Greg and Ails have such terrific enthusiasm for painting of quality."
Greg does indeed enthuse: "We're closing 2017 in style with this one. David Baumforth has art critics such as Sister Wendy and the Financial Times's William Packer recognising that he stands in the Turner tradition.
"International art magazine The Jackdaw is running a feature, his CV spans both national and international exhibitions, including the Royal Academy Summer Show, the Royal Watercolour Society Open and the Hunting Prizes at The Royal College of Art, and quite rightly he won Not the Turner Prize."
'Elementals: Contemporary Depictions of the North', featuring David Baumforth and Freya Horsley, runs from September 16th to October 17th, 2017.
---