Richard Barnes: from the archives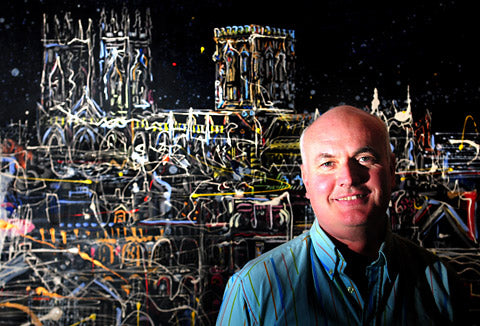 In preparation for our forthcoming and final show at our Tower Street location, here from the archives is an article from York's cultural lynchpin, Charles Hutchinson, from back in 2008. Richard Barnes' York city centre depictions kicked us off back in 2005 and we 're finishing here in 2022 with , 'Contemporary Paintings: Barnes and Barnes', a duo show featuring Richard and his daughter Chantal.
For pre-exhibition sales of Ricahrd Barnes' 2022 collection, visit: 
https://accordingtomcgee.com/collections/richard-barnes
For Chantal Barnes' collection, check:

https://accordingtomcgee.com/collections/chantal-barnes 
York, August 2008
THE heat and colour of Africa, the eternal wonder of the Minster building and the preferences of art college students for the drab have provoked a dramatic pictorial response in York painter and art teacher Richard Barnes.
Greg McGee, the ever loquacious co-owner of According to McGee, calls them "hotly beslobbered", a phrase partly inspired by Shakespeare and partly by the physicality of Barnes's oils, in the manner of a Jackson Pollock.
Barnes premiered one of his Minster oils in the Vive La Difference exhibition at Holy Trinity Church, in Goodramgate, in June. Now he has assembled plenty more – he had not counted precisely how many when York Twenty4Seven encountered him with the large-scale works all around him at According to McGee earlier this week – for sale at £300 to £3,000 from today.
After a year's sabbatical from his teaching post three days a week at Bootham School, he has returned to both school and painting suffused with his experiences in a village of the Bamiliké people in Cameroon. Experiences that have led him into an outburst of spontaneous, improvised richly colourful paintings.
Ails McGee, curating a recent Richard Barnes exhibition, in the window of According to McGee
"Seeing how art college students would be drawn to painting the drains of York, that provoked me into thinking, 'Right, I'll paint the most epic views of York'.
"This is the first time I've taken on York as a complete painting project, a complete show, like I've done when I've exhibited in cities like Barcelona.
"What I was doing was taking iconic places in foreign cities and then deconstructing them and using abstract painting to explore the feeling and emotion of being there, so now I've done that with York.
Painter Richard Barnes in his studio
"I think people are almost tired of abstract paintings as it's become an attempt to make things universal, like muzak, but this is my town where I live, where I walk around, and hopefully I can make my paintings real paintings of York."
Hence his series of Minster paintings, most of them ablaze with colours against a nocturnal background, but one in burnt orange and another in a yellow to make a Tour de France race leader feel plainly attired.
Although the images are initially reminiscent of those rainy night-time photographs that blur the city neon lights in an excitable, electrical haze, Richard says "the paintings are the opposite of what photos can do". They're very physical, very subjective, very much about what happens when you paint, so there are great gobs and spills of paint.
"The idea was to rev all the colours up to their highest ratio, and that's come from Africa, where all the colours are revved up to the maximum when the women dress up. You think the colours won't work together, but they do."
A recent 3m x 2m contemporary depiction of York Minster by Richard Barnes, sold to a private collector
Greg McGee has his own, typically idiosyncratic take on Barnes's latest work. "It's only when Dorothy leaves home in Kansas that the screen erupts into Technicolor, and it's only when an artist leaves his reverence for York at home that he can fully capture the city's restlessness and colourful energy. Barnes's wild compositions are a real shot in the arm for York art," he says. "Barnes is like a virtuoso music producer handling a veteran rock god. It's a bit like when Rick Rubin produced Johnny Cash, or Pharrell Williams produces Madonna. There's an element of rejuvenation, and it connects to new audiences. Barnes's work keeps things moving along and is as valid as anything that's gone on before."
McGee believes York is a fascinating place to be at the moment, and sees Barnes's paintings as a fitting comment on the city in the 21st century. "York is pulling in all kinds of interesting directions, whether its café culture, its tourists, or its art scene, but at its heart is this classically beautiful city, and this is similar to Barnes's art," he says.
"He chases all kinds of themes and experiments with all kinds of colours, building on his African influences – but at the core is a highly skilled craftsman who's been honing his talents for the past 30 years. Crucially, it's this balance that ensures he connects.
"The York that Barnes paints looks as if it's going to party like it's 1999 rather than 1799. There's room for both attitudes, Georgian gentility and Technicolor excitement. Here at According to McGee, however, we'll always go with the Technicolor."
York artist Richard Barnes, caught up in a riot of colour in his paintings for an earlier show at According To McGee
This article originally appeared in York Press: https://www.yorkpress.co.uk/leisure/exhibitions/3563446.richard-barnes-solo-show-the-artspace-york-until-august-18/
To follow Charles Hutchinson's blog - and keep in touch with the Hutch -  subscribe: https://charleshutchpress.co.uk/
---