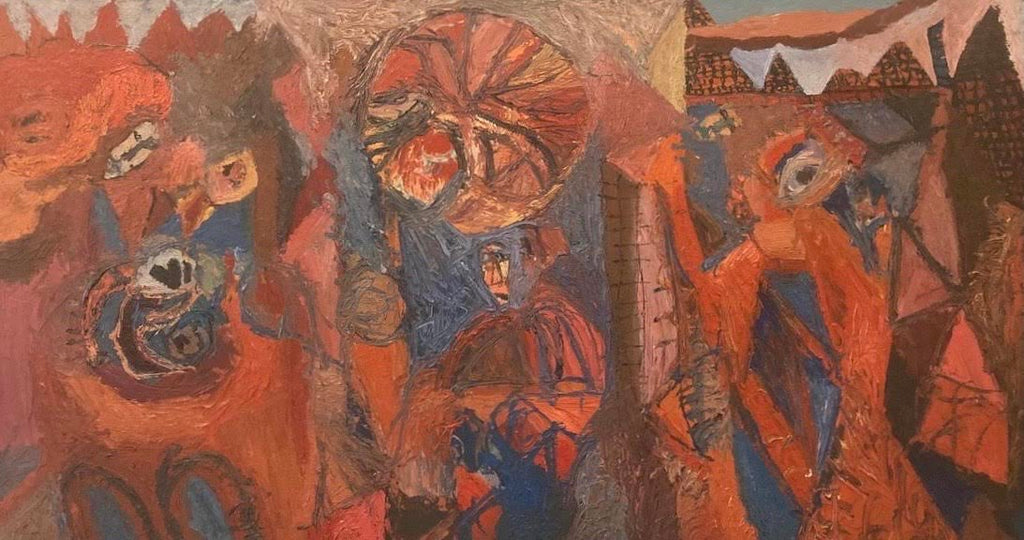 Below the Roofs
Original
$746.00
or
Apply for Own Art Loan
Pay 10 interest free instalments of $74.60
Own Art is an Arts Council England funded scheme, designed to make it easy and affordable to buy contemporary art.
Details
oil on canvas original unframed size 45.2 x 84.5 cm 
BYZANTIUM 1989 - 1997
"Two major series that were to define his career" Edward Lucie-Smith.
'Sailing to Byzantium', inspired by the Yeats poem, was begun in 1989, and after four years these themes were developed further in 'Byzantium'. This was an enormous undertaking on a vast scale, with many multi-sectioned oil paintings, often designed to combine in various ways to fir the architecture of the five large venues in which they were exhibited. In one case they were hung to cover the ceilings as well as the walls.
"The initial ideas developed from a desire to create a piece of work for a special site and make the paintings an integral part of that space. The second stage was to decide on a theme for the work. I had used the title of 'Sailing to Byzantium' for a painting done some years ago and it seemed that this title and the poem by W.B.Yeats had the potential to make the idea stimulating enough to sustain a body of work over a long period. The intention was not to illustrate the poem, but to use it as an inspiration and spring board…..The work for the first exhibition started with many preliminary drawings and colour studies in order to try and get a feel for the whole space and try to visualise how the paintings would work together. I decided to paint the panels in a sequence beginning with the building of a ship and including many things that the ship would carry…….The work represents a mixture of abstract ideas and personal recollections, feelings and memories." Dave Pearson on 'Sailing to Byzantium'
Delivery
UK
Pick up at Gallery
Free
UK
Original / Framed
£50
EU
Original / Framed
Get Quote
US/Can
Original / Framed
Get Quote
Rest of World
Original / Framed
Get Quote