Ails McGee curates origami at Bar Convent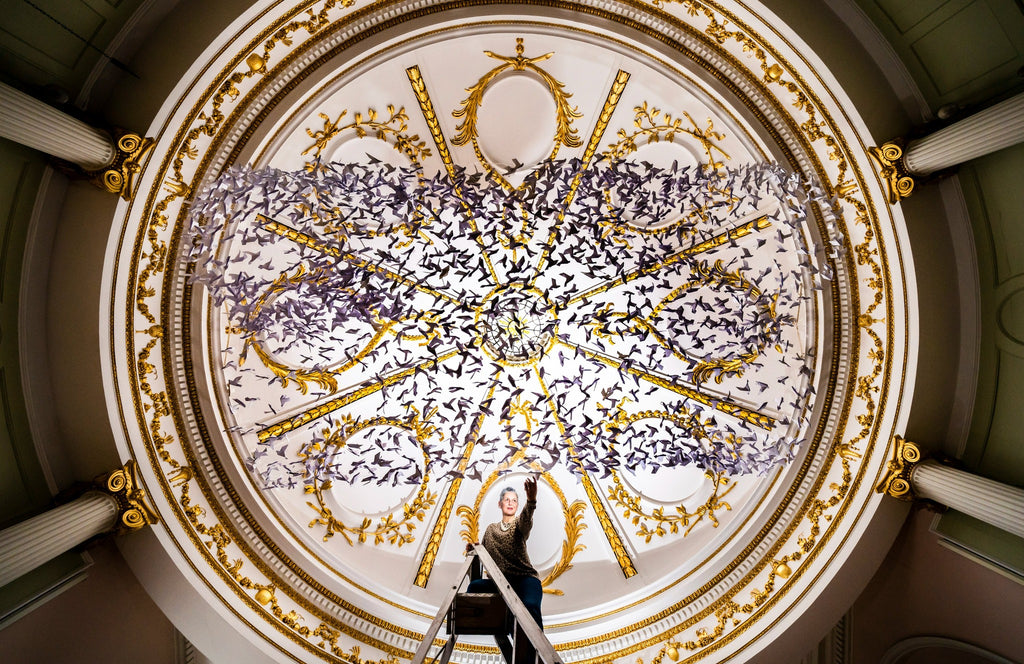 The oldest living convent in the UK unveils installation of origami peace doves this Christmas
Installation in support of Ukraine and those suffering at the hands of war to highlight the Christmas message of 'Peace of Earth'
As featured in The Times, The Guardian, i-Newspaper, The Telegraph, The Yorkshire Post, and York Press.
The Bar Convent, York, which is the oldest living convent in the UK, has unveiled a stunning installation of origami doves this Christmas- the universal symbol of peace and love.
With the outbreak of war in Ukraine,
Peace on Earth,
is a physical representation of prayers and thoughts to those suffering at the hands of war and includes doves made by refugees with messages in their own language of simple items that they miss most from home.
Ails McGee curates game changing origami 
This year, the convent has partnered with New Visuality, an award-winning York charity established by Greg and Ails McGee, that seeks to advance the arts, culture and heritage, who have curated the installation. With the involvement of Ukrainian families, refugees, local artists, schools, individuals and the sisters, staff and volunteers at the convent, thousands of origami peace doves now fly in unison as a beautiful, meaningful and thought-provoking installation in the stunning 18
th
century chapel.
Ails McGee creates and curates origami doves
Sister Ann Stafford, superior at the Bar Convent and a member of the Congregation of Jesus, said: "Each year we strive to create a meaningful Christmas display at the Bar Convent.
This year, with the outbreak of War in Ukraine, and other countries still at war around the world, we wanted a display to reiterate the Christmas message of 'Peace of Earth', which is why we have chosen the dove; an enduring and universal symbol of peace and love.
"We sent out an appeal for origami doves and have been overwhelmed with the response for this project; so many people have dedicated their time to contribute, which is a true testament to how much hope and kindness there is in the world. People want to make a difference in any small way that they can. This installation shows how small acts by many can come together to achieve great things."
Sister Ann Stafford oversaw the project with humour and vision
Greg McGee, co-director of New Visuality, said: "It was the double attraction of origami and a world class exhibition space that ensured our sessions connected so quickly and with so many people," says Greg, "Creativity is the ultimate mindfulness, and in these days of relentless bad headlines, to sit and create something so simple and so optimistic was irresistible. We created a groundswell by reaching out to Trinity Catholic College in Middlesbrough. They sent some beautiful work down. We had just finished a project with Bishop Chadwick Catholic Trust based in South Shields, designing for them huge montages, and they have allowed us to incorporate their art in these doves. A Devon group of artists are providing work, and perhaps most excitingly we have worked with over 25 young refugees who attend York College. Their welcome was warm and generous, and they put their own inimitable stamp on their origami."
Ails and Greg McGee peruse her curatorial handiwork 
"'Peace On Earth' has a stronger urgency for some than it perhaps does for others", says Ails McGee, co-director of New Visuality, "York College does such a fantastic job of ensuring these young people who have had to leave absolutely everything behind feel safe. As they were finishing their origami doves, the refugees wrote in their own language the simple items from home that they miss. Answers ranged from pets, to coffee, to sunlight, to mothers' hugs. It all adds a heart-breaking and authentic heft to what is a multi-layered exhibition, and proves that not only creativity is alive and well, but the need for peace and unity has not been such a priority for decades."
Ails McGee puts the finishing touches to 'Peace on Earth'
You can see the installation for free, along with the Georgian Parlour, dressed for Christmas.

 
Bar Convent 17 Blossom St, York YO24 1AQ  Closes 4PM 
---