Colin Brown's 'Johnny Depp': a kaleidoscopic salute to superstardom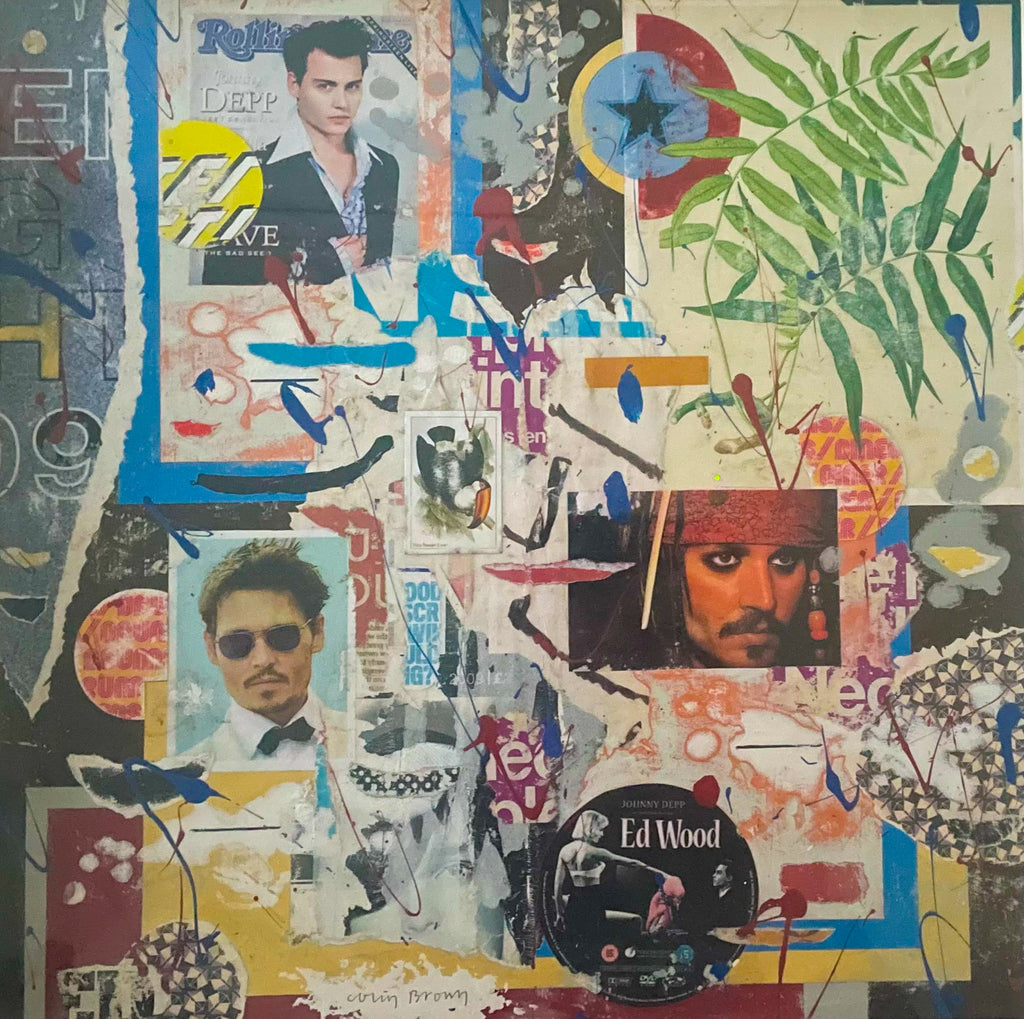 Contemporary culture is complicated, and as the West's luxuries multiply, so do the approvals and disregard of the culture in which these luxuries are inculcated and celebrated. One man's Twitter is another man's echo chamber, indeed one man's man is another person's fluid continuum, but that one is for another blog. Here I want to flag up the Johnny Depp collage from our Urban artist, Colin Brown.
Colin Brown is an astonishingly agile visualist. His collages, all evocative shards of random marks, torn print, primed paint, and handwritten notes, are composed with the visionary's yearning to throw into the air disparate elements and then allow them to sprinkle and calcify into synapse soothing compositions. He uses as portals into these portraits of contemporary life celebrities, amongst other aspects. His 'Johnny Depp', available for purchase on our online store, 
https://accordingtomcgee.com/collections/colin-brown/products/johnny-depp
, is one of these.
It is a muscular work. Shapes bulge with the artfully dishevelled testosterone and s
prezzatura that becomes the rarified stardom of the 
eponymous subject matter, whilst Johnny's eyes, all simultaneously doe like and carnal, pop from the surface of the canvas with as much power as they ever did from the silver screen. Colin created this 'Johnny Depp' years before Johnny Depp became the hugely polarising tabloid fodder in the summer of 2022. As a tribute to an off-the-wall A-Lister it is excellent; as a celebration of a superstar on the cusp of cancellation it is genuine Art, with a capital 'A'. 
It is after all a visual love letter to a star before the tsunami of everything that characterises our accusatory epoch, a star at the time revered for his ability to skewer oddball, loveable masculinity, at the time untouched by tribalistic projections, denunciations, and, depending on your by now doubtlessly monolithic point of view, vindication by the courts or miscarriages of justice.
I didn't follow the court case but like everyone else I was aware of its shifting groundswell, elevating it to 2022's cultural Top 5, up there with Partygate, the Heatwave, and the death of the Queen. I am also aware of the dichotomous aftermath of the ruling. As a gallerist, and with this specific work of art, my feelings are however not relevant to such associated controversy. As a gallerist, I am simply focused on sourcing works of Art that harness something in the zeitgeist that goes beyond tabloid trilling. And in conjuring up and then capturing a pre-Millennium innocence in Hollywood, Colin Brown has created something quite luminous. It's just that he has used Johnny Depp to do it. 
Greg McGee, co-director of According to McGee
---