Ails McGee's new collection, 'Affirmations', at According to McGee and The Backyard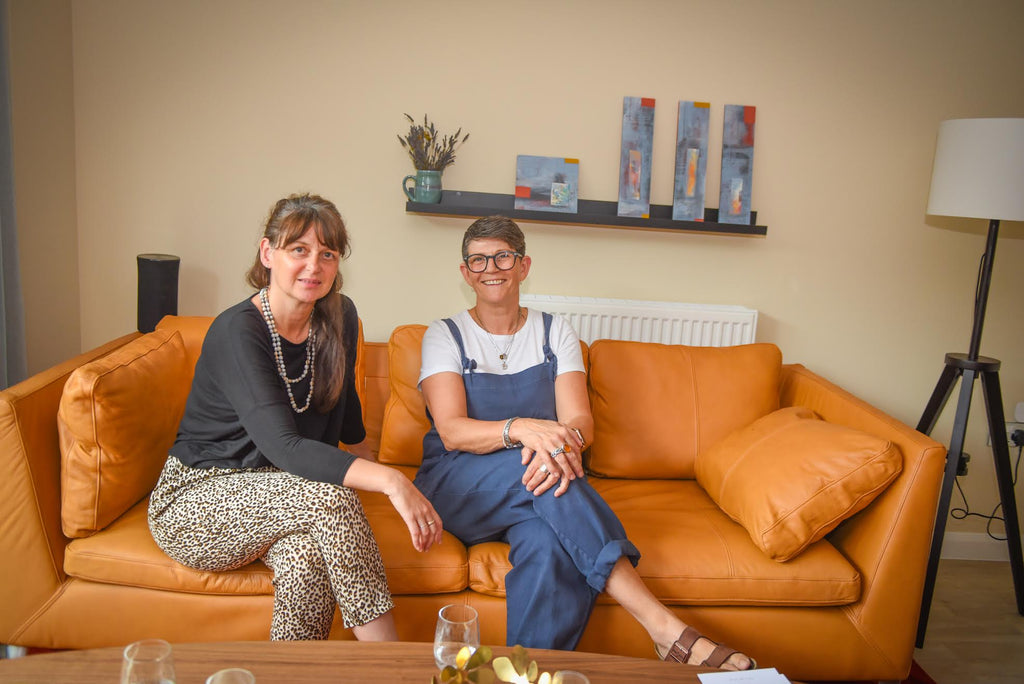 Article originally published by Charles Hutchinson, https://charleshutchpress.co.uk/tea-time-how-a-reviving-cuppa-has-inspired-ails-mcgees-affirmations-paintings/
EVERYTHING starts with tea for York artist and According To McGee co-director Ails McGee.
Key to Ails' latest artistic development is the scale and quality of this city's tea shops. "After a while, you need to reach for something that isn't wine," she says. "And we're very well looked after by tea havens such as Tullivers, Hebden Tea and Tea Palace. 
"But it's not just the tea. There are these little affirmations that are attached with string to the tea bags and they're wonderful. Such a simple little morning ritual has become like a prayer for me, especially at this time of chaos, and that serenity has most definitely fed into my new collection of paintings."
Why has everything stopped for tea in this preamble? Because gallerist Ails has picked up the paint brushes once more to bring her Affirmations to the ongoing Return Of The Painter series at the McGees' gallery in Tower Street, York.
Before establishing According To McGee with husband and business partner Greg in 2004, Ails was a successful painter, exhibiting in her native Kelso in the Scottish Borders and around Yorkshire.
Bringing up three children, together with gallery and charity commitments, meant the brushes were lain to rest until the "parsimonious proposals from politicians on essential exercise" for Lockdown 1 prompted her to go back to the drawing board.
The Return of the Mc went so well that her "comeback" show of North Eastern seascapes sold out in a day in July last year as the ebullient Tower Street art space welcomed browsers for the first time since the Covid-enforced shutdown on March 23.
Now, in the wake of Return Of The Painter: The Sea, The Sky, The City, Ails has turned her attention to all things "hygge" [the Danish and Norwegian word for a mood of cosiness and comfortable conviviality with feelings of wellness and contentment].
Cue her latest collection, all semi-abstract compositions of teacups and vases, bearing such titles as Come Home: All Is Well And I Am Safe, My Day Begins And Ends With Gratitude, I Am Connected To My Power Centre, Find The People Who Make You Feel Like Sunshine, I Allow Myself To Play And Be Silly and As I Return To The Shore I Feel Braver Than I Did Before.
That's some departure from your depictions of the North Sea, Ails? "The subject matter is different but the theme is the same. These paintings are celebrations of optimism and positivity at dark times," she says of her works inspired by affirmations, colours, pebbles, textures and, yes, those reviving cups of tea.
"It's just that, rather than the light on the horizon, they find hope in the straightforward act of making a pot of tea or living with simplicity and without clutter."
Managing the gallery and producing new collections of painting has "never been easier" for Ails. "The daily pause that comes with enjoying Yogi tea and following the guidance provided on the actual tea boxes has led to a more relaxed mindfulness. That is most certainly true," says Ails.
"But I'm a businesswoman too, so it's very gratifying to see such successful sales. Private collectors snapped up the first wave of paintings. The second wave has gone to The Backyard, in a commission, which is hugely exciting to be part of something so visually stunning." 
What and where is The Backyard, Ails? "The Backyard, or Bakgardurrin in Icelandic, is a holiday let in Heworth, managed by Gudbjorg Halldorsdottir as an Icelandic retreat for visitors from Iceland and elsewhere," she says.
"The commission caught my imagination and allowed me to align my new passions: Affirmations, Art, Tea, all displayed in a location curated with genuine northern hygge and with such taste.
"The art looks perfectly placed and is available to buy for visiting guests. It's an honour to be able to provide such souvenirs for visitors to York."
Gudbjorg says: "The idea of running a luxury holiday let in York has been brewing in my mind for a while. As an Icelander, I've been living in York for three years. I feel passionate about spreading the word and enabling as many as possible to experience this wonderful city.
"When the opportunity to buy a new-built house in our backyard emerged, I wanted to explore the possibility of collaborating with local people and businesses in York."
As a lover of art, she was keen to add "something special" to the house and to work with York artists to display their work in The Backyard.
"My partner and I have been lucky to get to know the lovely Greg and Ails McGee. I noticed that Ails had a beautiful collection of small pieces. Her work was exactly what I was looking for," she says.
"I hope that my guests at The Backyard will enjoy the artwork and take the opportunity to purchase a piece as a perfect souvenir of their stay."
Ails is enjoying painting a new collection to meet demand from new clients. "Affirmations, as a collection, has definitely struck a chord and I feel I'm onto something positive at a time when things have been so tough.
"If an artist can feel vindicated by the support of visionaries such as Gudbjorg and new collectors, then I am indeed blessed."
Yes, it's time for Affirmations, a browse and maybe a brew at According To McGee, open Monday to Friday, 11am to 3pm, Saturdays, 11am to 4pm, or by appointment on 07973 653702.
---