Colour & Ceramics: Simon Crawford and David Austin Duckworth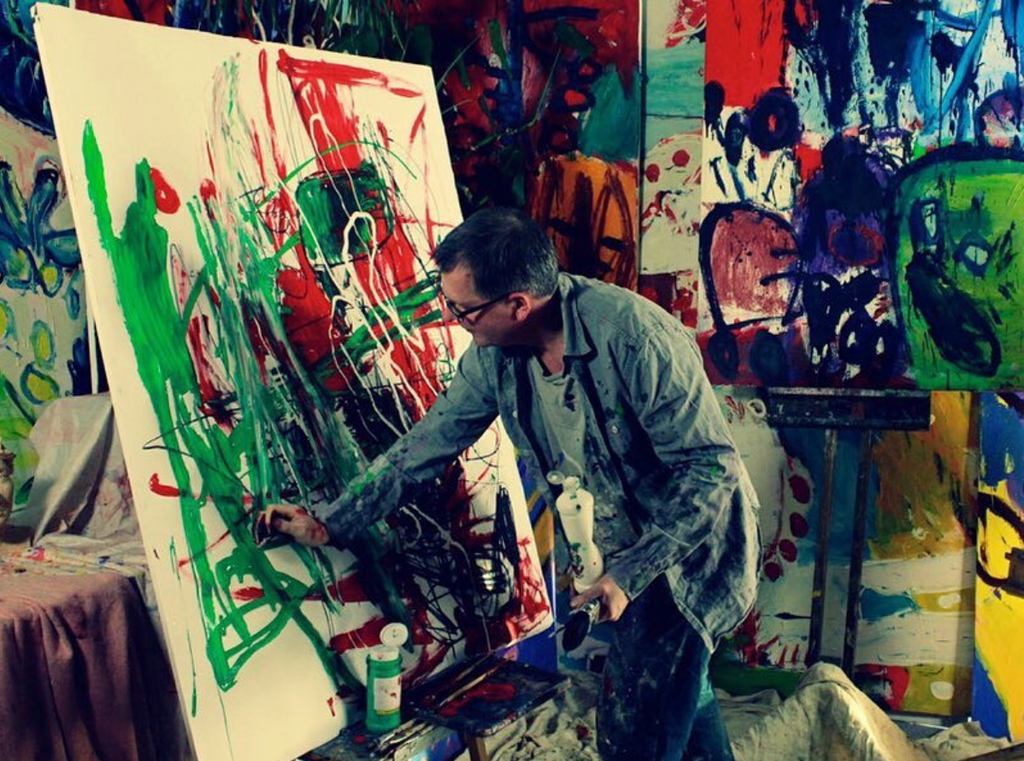 An abridged article from York cultural commentator Charles Hutchinson's blog:  https://charleshutchpress.co.uk/ 
Tower Street's According to McGee continues its campaign to alleviate anxiety caused by uncertain times. After her successful launch of her own collection 'Affirmations' last week, gallerist Ails McGee has curated a duo exhibition, 'Colour & Ceramics' in the front gallery opposite Clifford's Tower.
"Colour is underrated in Britain," she says, "And after 19 months of relentless bad news online and in the papers, it's sometimes an obligation for creatives to stop reflecting the anger of the times and instead try and find a little optimism. That's why there's such an explosion of colour here at the moment."
Simon Crawford's paintings at According to McGee
'Colour & Ceramics' sees the launch of new collections from painter Simon Crawford and painter and ceramicist David Austin Duckworth. Simon has recently returned from a trip to India, and it is this that provided a portal into the theme of the exhibition. 
Says co-director Greg McGee, "Simon's art has been exhibited internationally, with shows in Moscow and, a little closer to home, at Dean Clough galleries, helping give this collection an extra heft and pull for collectors across the UK. But it's also the fact that Simon travels, and soaks up his experiences with such obvious wonder and gratitude, that imbues his paintings with such ripples of light and dark. To hear him talk of watching the Indian jungle come to life from his train window in the red light of the evening is thrilling and then to hear him talk of how COVID has decimated the shanty towns of Amritsar and Mumbai is a reminder that recent history has been a nightmare for millions of people. Art is never going to fix these problems, but it can be a hammer we can use to help shape our response. In this case, it's a very colourful hammer." Simon has brought back to his UK studio a new appreciation of colour and energy, even filtering his depictions of North Yorkshire's Whinny Bank at Rievaulx through the conduit of a Punjabi palette. He is looking forward to exhibiting at According to McGee, "The concept is a brilliant one from the gallery – brightening these rather grim days through colour. India is visually explosive and an eyes out on stalks experience. A love affair was ignited by the intensity of the Indian palette. This show will set the visual taste buds tingling as the English autumn approaches. My work takes you on a journey through the Rajasthan landscape of pink saris against pale green and yellow mustard fields – India made me reimagine my vision of the English landscape." Complementing the vivid compositions of Simon Crawford, fellow Knaresborough artist David Austin Duckworth continues his collection, 'Cornwall Inspired', a celebration of the elements, especially those found at Cornwall. "Not all of us managed to get to Cornwall this summer," says Ails, "So experiencing David's artwork is the next best thing. David's paintings are alive with light and turquoise seas, and his Raku fired ceramics ache with how precious is nature. Both Simon and David work well together, and it is a duality we'd like to continue to exhibit."
Simon Crawford's paintings at According to McGee
"We're excited", agrees Greg, "There are a whole load of reasons for people to come and visit York city centre. We like to think that Contemporary Art is increasingly up there at the top of the list."
---