Kimbal Bumstead and Simon Crawford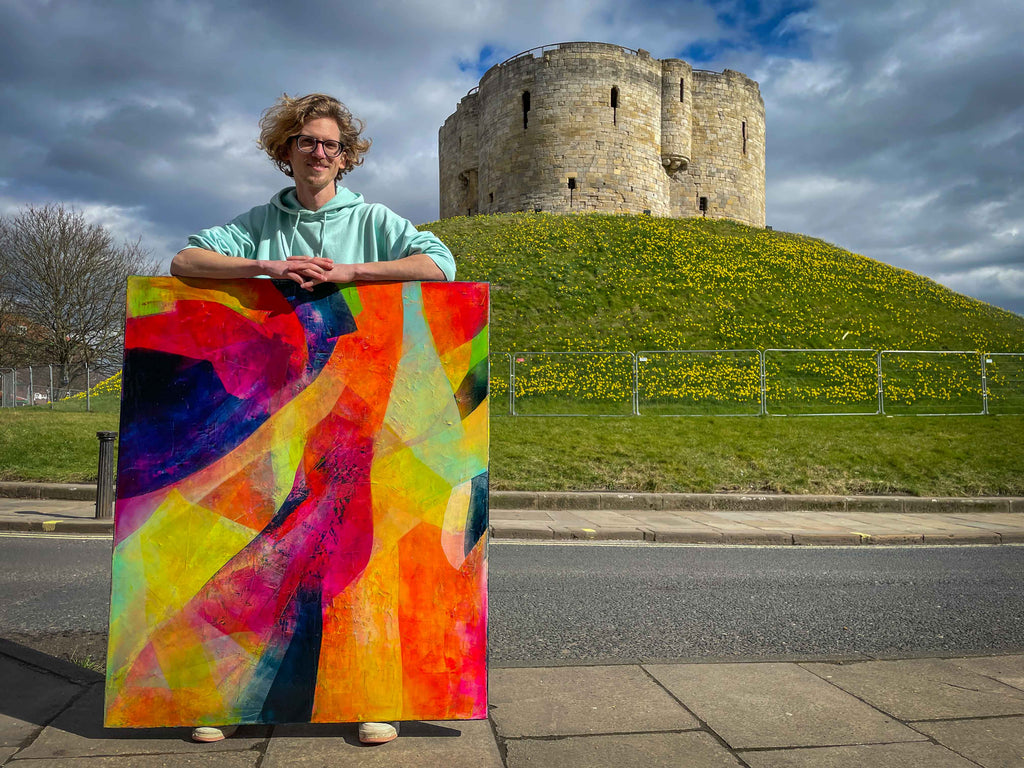 Tower Street gallery According to McGee launches its 'Return of the Painter 2022' series with a duo exhibition from Kimbal Bumstead and Simon Crawford.
With their antennae picking up on healthy competition from other galleries based in the north ("The creative industries have never been healthier," confides Greg), gallery duo Greg and Ails McGee have opted for 'scale and colour'. "But it's not just the 'wow!' factor says Ails, "There are deeper meanings behind the collections of Kimbal and Simon. This, and the fact that their latest paintings dovetail so well with each other, means that the time is right to hand over the reins to both of these fascinating artists."
Kimbal Bumstead and Simon Crawford are both painters who celebrate colour and, though previous exhibitees with the McGees, have never until now synchronised their output.
Kimbal, new to York but with years of experience of painting under his belt, brings to the McGees a new energy inculcated by recent success stories exhibiting in Sheffield, Tokyo, Amsterdam and at the Mall Galleries in London, as well as teaching abstract art classes with York Learning. Says Kimbal, "It's really thrilling to be an artist. My job is to bring things into existence that weren't there before, and I use colour and mark-making to get there. But there are other aspects too. These paintings aren't just experiments in colour, nor are they just expressions of feelings, they are also explorations of journeys into other worlds."
Kimbal Bumstead (far right) with the According to McGee team
The Kimbal Bumstead collection, 'Segments of Journeys', hangs on the wall of the front gallery opposite Clifford's Tower, and they do indeed pulse and shimmer, suggesting memories and half formed ideas. "The subject matter isn't fixed, it's yet to be defined," continues Kimbal, "If the idea of journeying is the building block of the painting, the overarching theme is, I think, that there's no destination. I love the process of trying to let go and getting lost in the painting. That's a positive to me, and reflects on how I live my life. Stuff happens, you navigate it, and hopefully you enjoy the process. I like trying to see a street differently each time I walk down it, and the same goes for my paintings – each time I look at them I find something new, something I hadn't noticed before"
Kimbal Bumstead at According to McGee
Kimbal points to the intersecting colours and mark making on the surfaces of his paintings, with some strokes sliding into areas that had been painted much earlier. "It's like landscapes," he continues, "I like how a landscape in real life has different layers. Physical layers, ideas that people project, memories, different stories, traces of the old next to the new. It's something I am really keen on capturing."
Can you explain a little more?
"It's not dissimilar to experiencing York as a city. On one hand you see what's on the surface, the old buildings next to new ones, but then there's another world, the one you have to imagine, the one where different stories have taken place and settled like sediment. That's really the case with this collection, there is not just one way of seeing it."
"It's heavy stuff," Greg says, "But at its heart it's an antidote to the current obsession with targets and data. This is less harnessing data and more harnessing dreams, which is a priority in most artists' manifestos."
On the opposite wall hangs the latest collection, 'Cool Shade and Hot Light,' from Knaresborough artist Simon Crawford. In terms of scope and vividity, the collections complement each other, with Simon's approach perhaps more relatively literal in his depictions of his experiences. "I have recently returned from India. To call it a 'life changing' experience is to underestimate it," says Simon, "It brought me new textures and colours, and I have been trying to skewer them in my palette and on the surface of my canvases since. I think this collection is a true representation of what I saw and how I saw it."
Simon Crawford with Greg McGee at According to McGee
With a CV that includes exhibitions in Dean Clough galleries, international stints in Moscow galleries, and more recently in Messums North, it is to According to McGee he has brought his impressionistic portraits of India. "What's especially great is that when Simon now turns his attention to northern subject matters, he filters his depictions through the conduit of tropical heat, so that you get Rievaulx Abbey endowed with the glittering humidity of an Indian jungle," says Greg. "It's witty and sensual, and it's exactly what we're looking for in our search for more excellent painters to represent. Simon's use of colour is instantly recognisable, and it's humbling to see he is showing no signs of backing down."
"The Punjabi palette seems to work really well with our collectors, especially here in the North," says Ails, "Whether it's from Simon or Kimbal, or other from McGee favourites like Amrik Varkalis, a fearless celebration of hot colour connects with clients and leads to increasingly good sales. Whether that's down to the general doom and gloom of our times, or the drizzly weather, we haven't worked out yet! But we've worked hard on curating this exhibition, helped in no small way by Emma Storkey, Emmanuelle Butler, and George Clarke who as Year 10 students from All Saints School have spent the last 10 days on their Work experience with us. We're all looking forward to bringing to this duo exhibition as an early summer gift to collectors who like to bask in the heat of their collections."
Simon Crawford with his 2022 collection at According to McGee
For Kimbal Bumstead's art: https://accordingtomcgee.com/collections/kimbal-bumstead
For Simon Crawford's art: https://accordingtomcgee.com/collections/simon-crawford
This article originally appeared on Charles Hutchinson's online supernova for all things cultural: https://charleshutchpress.co.uk/
---