Curating Exhibitions after Quarantine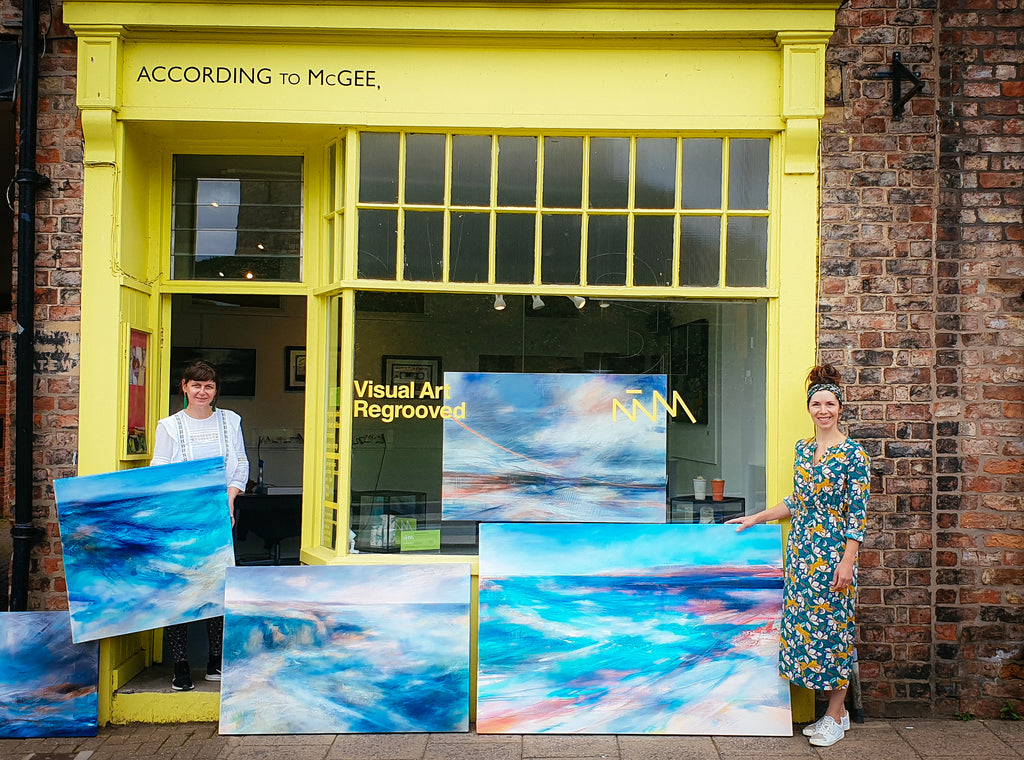 According to McGee gallery on Tower Street, celebrating its 16th year this summer, had alternative plans for 2020. "We had all kinds of plans," says gallery director Ails McGee, "We had a series of events including performances, installations, and illuminated projections. When something so huge comes along and wipes your plans into zero, it's probably best to zip up your boots and go back to your roots. So we gave our resident painters a ring and started from scratch."
Established in 2014 with husband and business partner Greg McGee, According to McGee has increasingly championed innovative, progressive arts from internationally well regarded artists, winning awards along the way (York Culture Awards 2017 and 2018). The refocus on painting, a traditional medium, is not a step backwards, says Ails. "We live in a divided, noisy time. We have had people accuse us of reneging on what art galleries should do, which is to provoke debate, apparently. But in a time when taking essential exercise in the great outdoors is a potentially radical act, and the very slogans that are supposed to provoke progress can sometimes lead to more division, we see the celebration of nature as a rebellion in itself. This isn't the stuff of Downton Abbey, by the way. Seascapes, landscapes, and cityscapes don't have to be the equivalent of wallpaper. The work we have from our artists is game changing, and helps redefine what paint can do in the hands of a real artist."
Ails points to the new collection of paintings brought into the gallery by artist Freya Horsley. Skyscapes, seascapes, and landscapes await curating, all of them composed with enough contemporary energy to ensure that the gallery retains its 'Modern' credentials. The collection forms part of an exhibition, 'Return of the Painter', with fellow seascape artist David Baumforth and cityscape artist Richard Barnes, as well as Ails McGee herself. Ails is thrilled at the beginning of this new chapter, "It feels like we have come home. As an artist, I am honoured to hang work alongside others who have become internationally collectible. As a curator, I'm in the happy position of hanging wonderful art in my own gallery. And this is only the first phase. We will be showcasing a solo show from David Baumforth in 2021. Before that we will showcase the latest from Punjabi born Sky Arts star Amrik Varkalis, and collaborate with the Dave Pearson Trust. Emily Powell, Gerogie Britton, Julia Poulton - all of them painters at the top of their game, all of them bringing their art to the market via our gallery. The year might have been stressful up to now, but these artists are making it a whole lot easier to plan for a future in which we as a gallery, and they as artists will thrive."
Freya is ebullient about unveiling her new Northern collection exclusively with According to McGee, "There is a theme of openness, space and movement that runs through all the work, not just mine. We've each approached the celebration of nature at this tough time quite differently in our use of paint, colour and even mood. There is a feeling that we're talking the same language but definitely not in the same voice."
Ails is looking forward to the weekend. "An exhibition like this curates itself. We have been straining at the leash to get back in the groove, but we wanted to wait until the time was right. Everyone is welcome to join us: collectors, artists, or just browsers who want to enjoy browsing an independent gallery like ours. Come over! It feels right to celebrate nature like this. In a fragmented world, if you aren't able to witness the restless glow of the sea, coming to see how it is beautifully painted comes a close second in the healing process."
Return of the Painter: The Sea, the Sky, the City" launches on Saturday 18th July, 12pm, featuring art by Freya Horsley, David Baumforth, Richard Barnes, and Ails McGee.
All welcome. Contact info@accordingtomcgee.com with queries. 
Pic features gallerist Ails McGee (left) with painter Freya Horsley (right), with Freya's new collection of seascapes holding court.
---