Freya Horsley: Contemporary Landscapes and Seascapes
/ By According To McGee Admin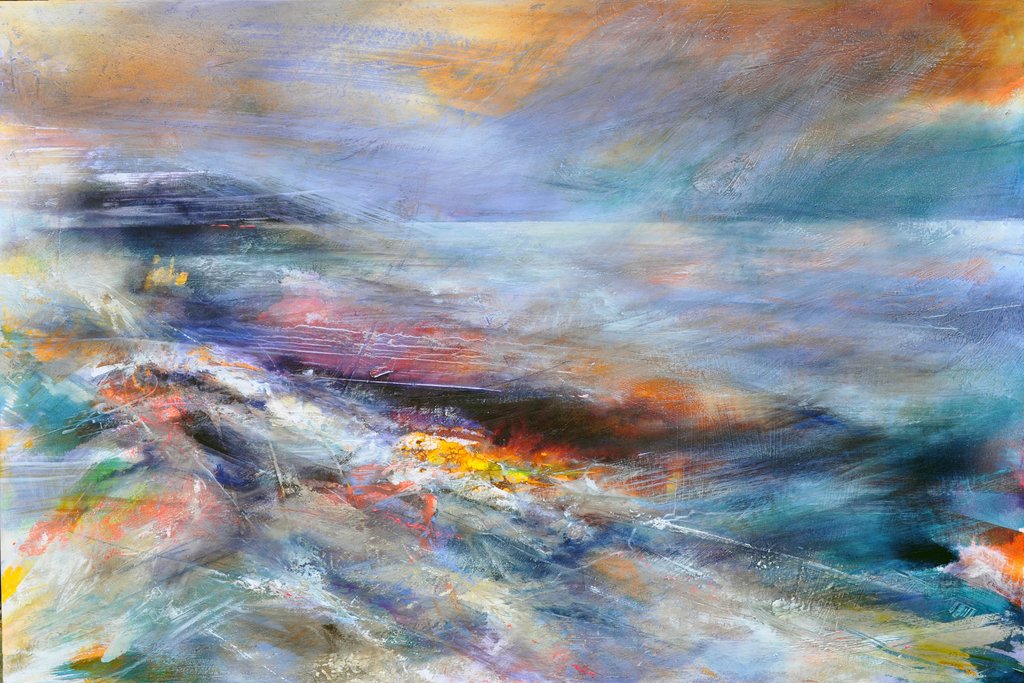 Led by her responses to landscape, light and weather and also by the process of painting itself, Freya creates paintings that refer to both the permanent elemental nature of land and a more ephemeral sense of fluidity and change. In drawings made on the spot and in larger paintings in her studio, Freya captures the intangibility of the changes which rain, mist, sunlight, cloud, snow bring to the face of the land. There is a Turnerian harnessing of light and how it sculpts new textures as it changes. Collectors have remarked that it is not simply the balmy calming qualities inherent in her output, but it is this, the relentless homage to light, reminiscent of the Romantic painters and their highly attuned attachment to nature, that attracts them and has made for such successful exhibitions. Perhaps in these days of break neck capitalism and its adverts, Google cookies, and harvested personal data, echoes of the Romantics are just what we need to bring some much needed meaning to our visual culture.
Freya is increasingly keen to explore in greater depth the relationship between what is being painted and how it comes about, how much is real place and how much painted space. Drawing and making notes outside in the landscape allows her to instil in her mind a feeling of a place with its sights and sounds. However, the separation involved in making the paintings back in the studio is equally important to howFreya approaches her work freely, as a painting rather than as a detailed geographical record. 
It is this second aspect, the controlled chronicling in the studio, that has been sparking the interest of contemporary collectors. At a time when we find ourselves unable to resist recording the moment rather than experiencing it, a foible borne out by the amount of mobile devices held aloft at concerts, Freya's fusion of instant enthralldom in the elements and then the quelled composition of creating a painting which reflects it seems somehow pertinent. Is the glancing silver light of the dying day better represented as it is witnessed en plein air, or afterwards, in the fertile circumstances of the artists' studio? Freya's art pertains to the latter, and powerfully evokes William Wordsworth's famous aphorism, from his preface to 'Lyrical Ballads', the collection of poems that helped initiate the English Romantic movement in literature: "Poetry is the spontaneous overflow of powerful feelings: it takes its origin from emotion recollected in tranquillity." In this sense, Freya Horsley, a contemporary painter with a very modern eye for the sensual power of nature in a hectic world, stands foursquare in the Romantic tradition.
Greg McGee, Co-Director, According to McGee
The art of Freya Horsley is available for perusal and purchase on our online gallery: https://accordingtomcgee.com/collections/freya-horsley
Article originally used as Preface to international poetry-zine 'Dream Catcher', #37
---