Paintings of the North 2018: David Baumforth
/ By According To McGee Admin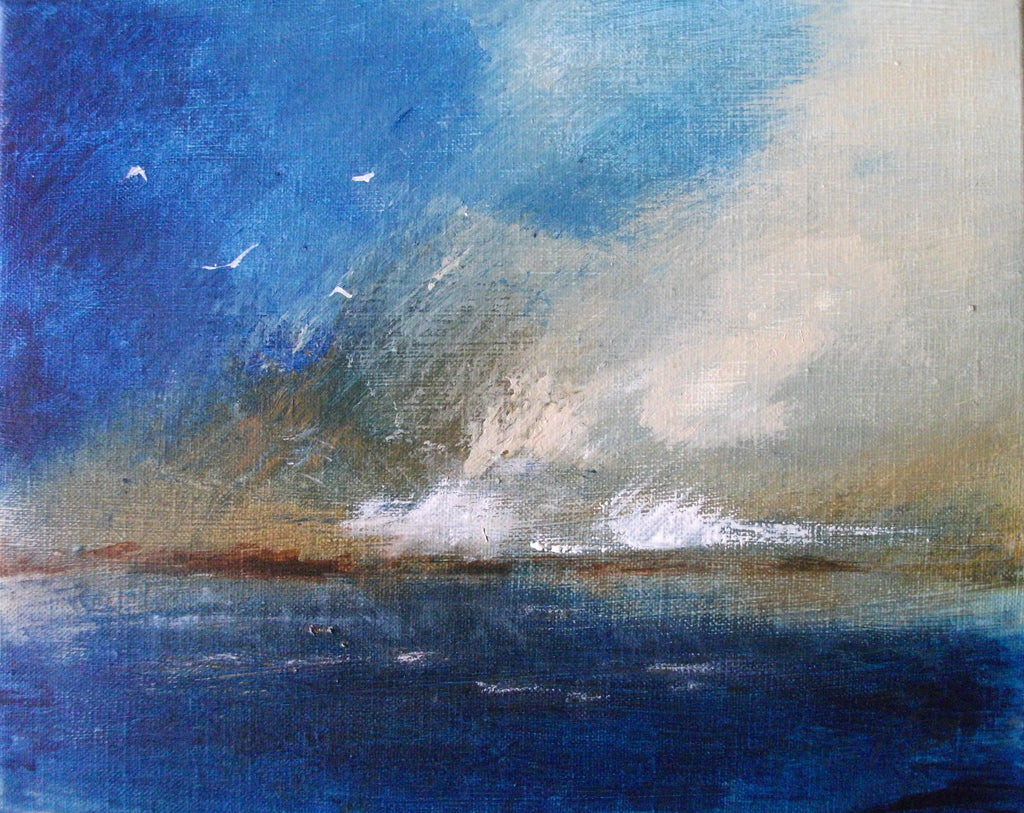 Tower Street gallery According to McGee launched 'Paintings of the North' in June 2018. Featuring a collection of seascapes and landscapes of selected locations in and around the North East coast, the exhibition, the latest collections from David Baumforth, Freya Horsley and Patrick Smith, continues gallery directors Greg and Ails McGee's ambition to showcase paintings from some of the best painters in the UK.
Here in this article, we'll focus on David Baumforth. "He's the Turner of the North", says Greg, "And it's not just us who says it. The Financial Times' William Packer has him in the Turner tradition. BBC's art critic Sister Wendy says "Anyone who has an eye for art, the deep passionate colour of Turner, the pure-loving observations of Constable, must rejoice that our century has David Baumforth. This work is 'the real thing', wet with sea-spray we can feel, always mysterious, always beautiful, art to be cherished." This is excellent work, by any standards, and it's fresh from the paint brush of a painter who is, somehow, just getting better and better."
Baumforth, the recipient of the Not The Turner Prize in 2003, works out of his home studio at The Corridor Gallery, Lowgarth, Pickering Road East, Snainton, near Scarborough. He first exhibited at According To McGee in 2004, and the McGees have enjoyed a 14-year relationship with a Yorkshire artist Greg fondly describes as a "straight-talking, short-tempered art rebel". Ails is pleased that the fusion of sensitivity and irascibility
is still evident in his creative output. "Increasingly so! And it's a factor that only comes with hard work and an instinct for colour and composition that does justice to the rugged beauty of the North and its coast. Many artists know what it is to over revere, say, a beach at dawn. It's easy to come up with something that is ultimately sweet and cliched. Other artists can overdo it on the zealous front. David balances both ways of seeing beautifully, so that it feels as if you're looking at the light and the sea and how they interplay for the first time. That takes a painter of enormous talent and a massive work ethic."
Ails points to the pre-exhibition sales as testament to the painter's increasing popularity and is proud for her gallery to be Baumforth's sole representative. "For us as a gallery in York to receive excited phone calls from art collectors in Cornwall before the exhibition even opened is a vindication that we're doing something right. His current oeuvre is a crucial event for collectors from all over the UK. Obviously that's a great result for us, and we like to think it reflects well on York's creative scene too."
Baumforth is pleased with his return to his native York. "It feels right to be exhibiting in York with a solo show," he says. "My style may have slightly changed, but I'm not interested in gimmicks. The Yorkshire Moors and its coastline are a constant source of inspiration for me. I'm happy with my work, so I feel no need for change. I'm always happy to exhibit them in According To McGee as Greg and Ails have such terrific enthusiasm for painting of quality."

Greg feels that Baumforth and the exhibition is a battle cry for the art of painting, a medium long rumoured to have died, or at least forced to squat in the shadow of other, more innovative techniques. "It feels good, like we've come home. Video installations, lights flickering, and Performance Art is all great, and all play an important part in contemporary creativity, but you just can't beat the visceral punch of a thickly applied painting. And unlike its cooler cousins, you can take it home and live with it!" Ails agrees, "The North is a beautiful place to live. For a sensitive litmus test of what it looks and feels like and maybe see new colours that you've never discerned before, come over and enjoy this collection from a painter at the top of his game."
Next week: Paintings of the North Part II - the restless art of Freya Horsley
---