The One Stop Shop for White Hot Pop Art in York, led by Horace Panter.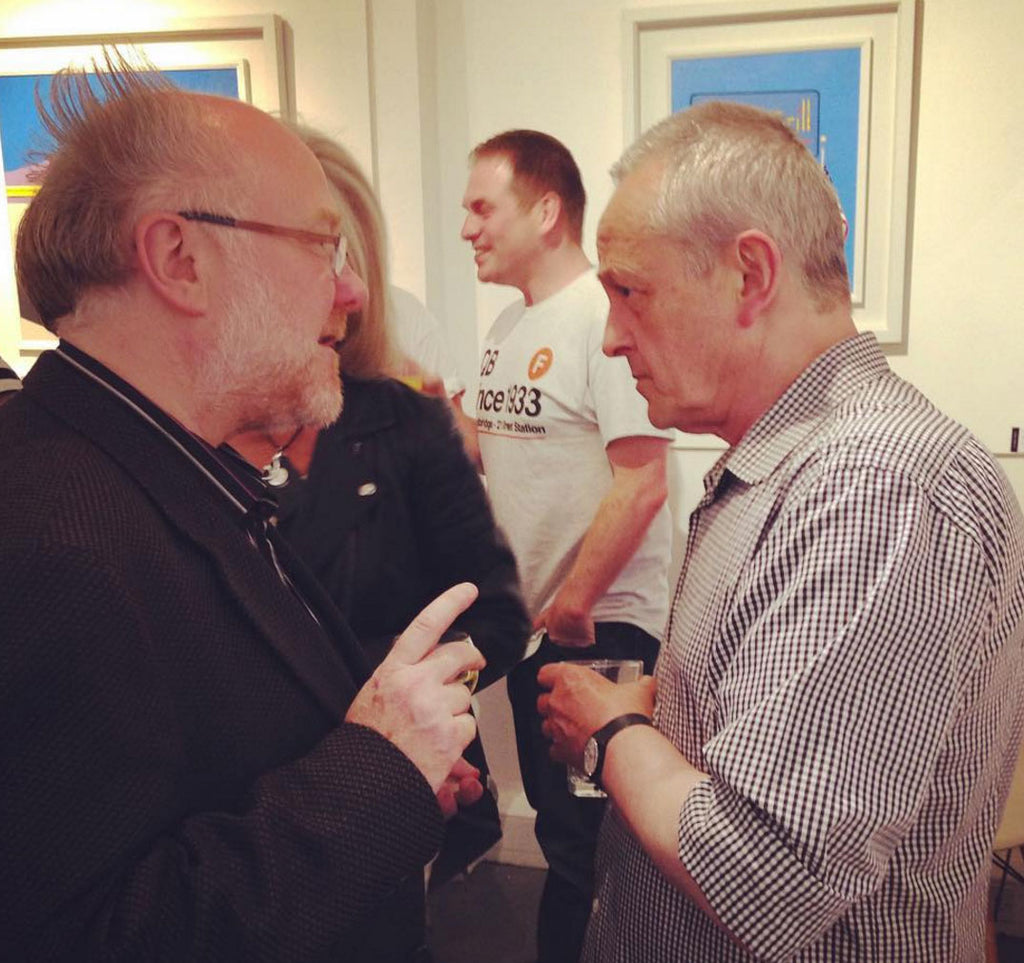 Tower Street gallery According to McGee is hitting the festive groove with 'a razor sharp, generous hearted exhibition of contemporary art from professional artists and members of the public.' In a fusion of both gallery and its charitable arm, New Visuality, 'UnSeen Colours' will launch on Saturday, once again with rockstar and Pop Artist Horace Panter as the main exhibition. "'UnSeen Colours' is in essence an experimental exhibition, where we selected our current favourite Pop Artists and display them alongside letter press posters featuring slogans coined by members of the public", says gallery and charity director Greg McGee. During last week's Aesthetica Short Film Festival, the McGee gallery projected through their front window and into the street a series of questions on 'Independent Art', inviting nocturnal passersby to join the conversation via social media. Responses came accompanied with hashtags and on New Visuality's twitter feed, with ideas and slogans fed into printing sessions, including 3D prints and letterpress posters. "It was a multifaceted project, that's for sure," laughs Greg, "But it's now distilled into a simple exhibition. We thought, how better to display the posters and 3D prints than alongside our favourite Pop Artists? Pop Art has such a crisp, accessible vibe, and its reach is arguably bigger than anything we've exhibited all year, so we called rockstar (The Specials) Horace Panter, who suggested Scottish award winning artist Colin Brown, and York favourite Mat Lazenby. We also have the latest digital art from Richard Barnes, who continues to endow York cityscapes with an edge hitherto limited to Las Vegas." 
The potentially disparate nature of the exhibition doesn't bother co-director Ails McGee, "The work really complements each other. They may be different in terms of genre, but even our seascape artists, David Baumforth and Freya Horsley, share a contemporary, vivid sense of visual heft, that just makes sure everything gels. Mix that in with the letterpress posters based on the thoughts of members of the public, and you've got a unique exhibition that continues to push at the boundaries of what a contemporary gallery is capable of." Horace Panter agrees, 
"I'm delighted to be included in this exhibition.  'UnSeen Colours' will include my 'Clash' and 'Ramones' limited edition prints. Both pieces seek to encapsulate the essence of two iconic musical forces while leaning on the references of (Sir) Peter Blake and Robert Rauschenburg. The 'Walkman' pieces, meanwhile, celebrate a moribund piece of music technology; groundbreaking in its day, it now exists only as a repository of memory for all those who owned one in the 1980s." 
'UnSeen Colours' is an ambitious, evolving exhibition, that has at its heart the celebration of independent creativity. "The art scene in the UK has never been healthier," enthuses Greg, "And whether it's a rockstar like Horace Panter or a tourist visiting York for the Aesthetica Short Film Festival getting involved, there is a new found confidence in sharing stories and getting creative. It bodes well for 2020, and we're just honoured to be able to showcase the wildly different work that comes out of it."
Picture: former Lord Mayor of York Dave Taylor waxes lyrical with Pop Artist and Specials bassist Horace Panter
---