We are York. We don't give until it hurts, we give until it feels good!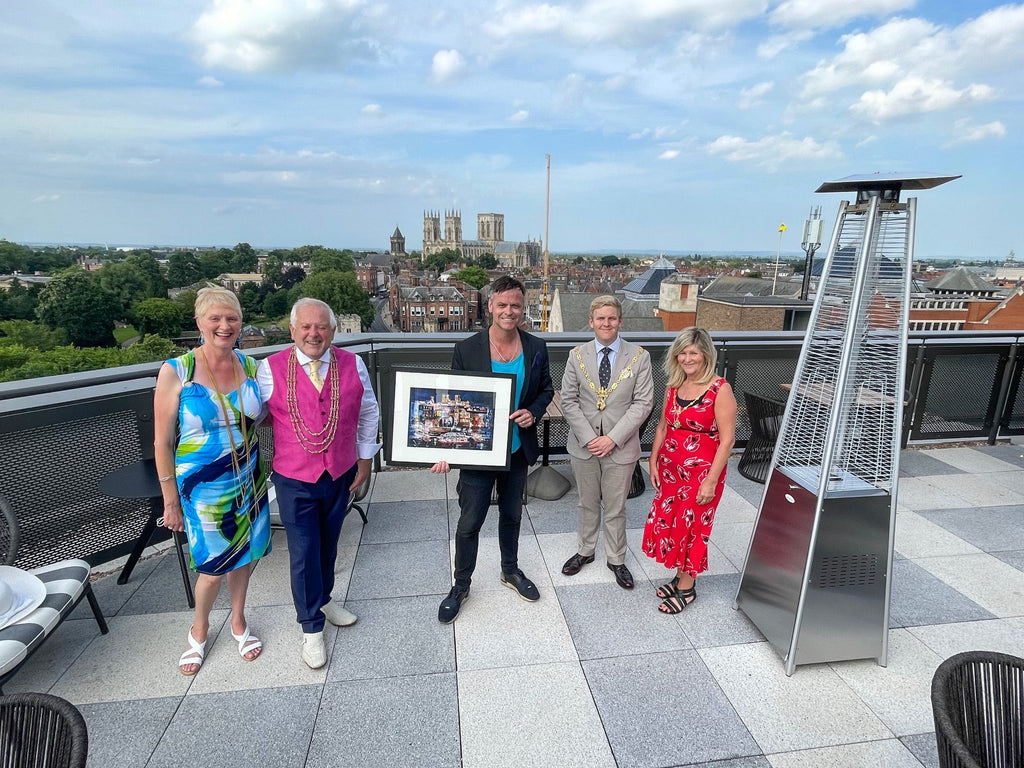 The call went out in mid-July 2021. 'Join the Lord Mayor and Civic Party for a fabulous evening of liquid refreshment and entertainment. Hosted by the Lord Mayor and art supremo Greg McGee, this promises to be a wonderful, fun and relaxed evening at York's hottest venue. Enjoy tapas and fizz as you take in the breathtaking views across the Vale of York.'
The below is a transcript of Greg McGee on the mic at the event.
"Good evening Lord Mayor and Lady Mayoress, Sheriff of York and Sheriff's Consort, Ladies and Gentlemen.
My name is Greg McGee, I am co-director with Ails McGee of Tower Street's contemporary gallery According to McGee. I am also your humble compère for this evening.
Firstly, I'd like to extend our gratitude to Malmaison for their effortlessly elegant welcome. The smiles, the guidance, that Golden Elevator, and this splendid view. In a city full of wonderful views it is always extra thrilling to be presented with something that turns your blood to smoke and Malmaison can handle that responsibility better than most. Isn't York so much greener from up here? This is a view that can go duke for duke with views in any other city in Europe, helping hammer home the fact that York continues to be a competitive, relevant city. Thank you, Malmaison, for your consummate hospitality.
Thank you, too, Ladies and Gents for coming this evening. Tonight is not just an opportunity to make new friends and consolidate new ones, it's also a chance for the Civic Party to lift the curtain on the 3 charities selected by. the Lord Mayor. With that in mind, it is a roundabout this time of night I like to hand the microphone over to philanthropists and altruists. 
(York Mind, SASH, and Wilberforce Trust representatives address the guests)
Thank you. It is easy to see why the Lord Mayor of York selected you. Your rigour in dealing with these emergencies is inspirational. And it is with this in mind that we segue effortlessly to our final chapter: donations. We might have the view, we might even have the 'Lord Mayor of York Cocktail', a brew as evocative as it sounds, concocted especially by the inimitable York Gin - thank you, York Gin! - but we don't yet have donations. It is with this in mind that York artist Richard Barnes and our gallery According to McGee have provided this painting of this very view to the highest bidder. 
Remember, people - we are York. We don't give until it hurts, we give until it feels good!"
(The highest bidder was Will Zhuang. Chris Pegg of City Cruises generously threw in free tickets for a cruise on the Ouse to help augment the final prize).
Malmaison York: https://www.malmaison.com/locations/york/rooms-suites/
York Mind: https://www.yorkmind.org.uk/
SASH: https://www.sash-uk.org.uk/
Wilberforce Trust: https://www.wilberforcetrust.org.uk/
A good start to helping the Lord Mayor of York's charitable work is by following his Twitter account: https://twitter.com/LordMayorYork
Chris Pegg's City Cruises: https://www.cityexperiences.com/york/city-cruises/
---