Amrik Varkalis and a palette of crushed jewels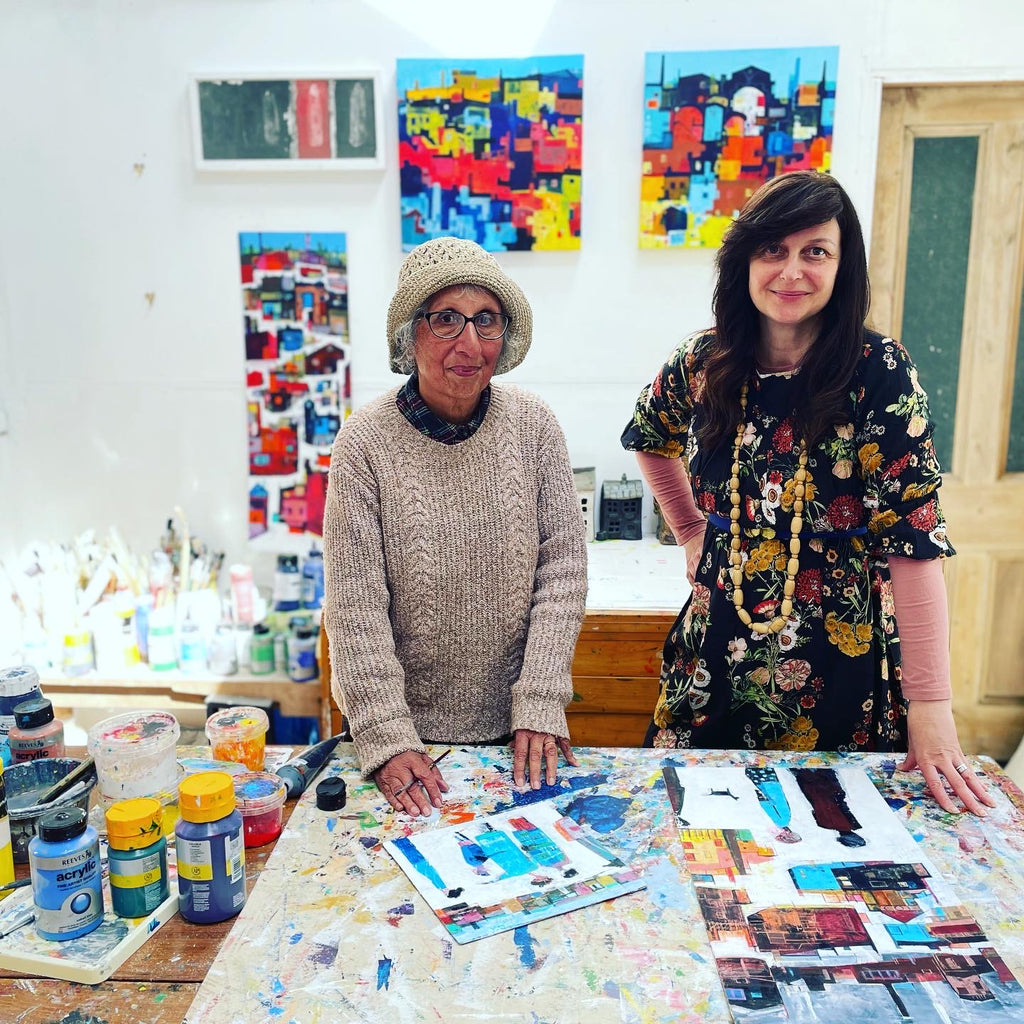 Simultaneously disturbing and pleasurable, the revelation that language and theory don't come close to expertly composed colour work is thrillingly borne out in our spring exhibition. While pure draughtsmen are philosophers and dialecticians, it seems, colourists are epic poets.
Amrik Varkalis' art at According to McGee, York
Amrik Varkalis is one of the most exciting painters in the North. Her audacious and thickly applied impastos are constantly surprising, pleasing and show a continuing attempt to control the full orchestra of colours, both from the palette and from their respective experiences. Varkalis has a healthy sense of mischief that has brought her increasing exposure. In a humorous BBC interview, she notoriously threw down a gaudy gauntlet to Hockney to rethink his palette and instead learn from her in order to capture the rich, wet stones of Yorkshire. Her work is highly collectible, and is primarily focused on finding the joy and darkness of our experience through the sumptuous filter of succulent colour. She seems to have an instinct that colour is light's suffering and joy. "If it looks good enough to eat, use it." Quite.
Amrik Varkalis' art at According to McGee, York
Amrik Varkalis maintains the admirable concern to prioritise artistic meaning over artists who 'want to become a brand'. In this case, it is colour that is the clarion call, the touch stone for what are by any standards exhilarating, joyous paintings. She harnesses the heat of her Indian heritage and imbues new hues in her depictions of Yorkshire; the last mad throb of the sun just as it turns purple, the sobbing of the orange as the
blue
recedes, the riot and the shifting of each thickly applied, palette knife scraped colour.
Amrik Varkalis' art at According to McGee, York
She provides a direct link to the fun each colour must have felt when the first rainbow was formed. The soft vapour of pale citron is energetically offset with
bulbous
Prussian
blue
and buttery gold, and all the while there is exuberance and irreverence, forged from a palette of crushed jewels.
Amrik Varkalis' art at According to McGee, York
Colour, brightest when the mind is open, is indeed the pulse of the painting. Amrik Varkalis is at a very interesting point in her career, and York looks forward to seeing her latest work exhibited in this city centre gallery. It promises to be a show shot through with light and heat. Balm for the brain awaits.
For our collection of Amrik Varkalis paintings, visit: https://accordingtomcgee.com/collections/amrik-varkalis
---