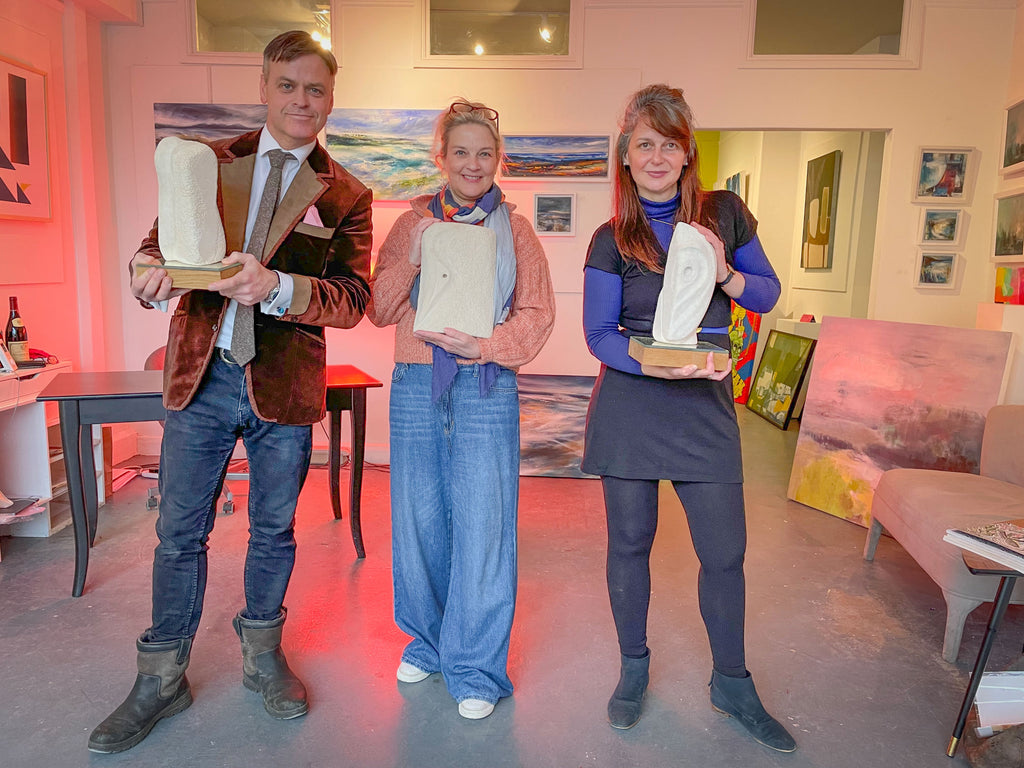 Tower Street gallery According to McGee launches it's series of 'Affirmations' exhibitions with a fusion of ceramics and sculpture. "We're still all about the paintings," says co-director Ails McGee, "I have been working on my own series of Still Lifes. Beth Ross is here, David Baumforth, Horace Panter. We just thought the blank slate of 2022 merited a new approach and so we have new 3D items, namely a ceramic collection from David Austin Duckworth and, excitingly, the
latest forms from celebrated sculptor Janie Stevens."
"What was important was that the art we kick off the year with is for the most part positive and aspirational. The front gallery
is a battle cry for the positive values of Art. Art often throws the cultural equivalent of a Molotov cocktail into contemporary life, but it can also simply reflect what is aspirational and optimistic. C
elebrated sculptor Janie Stevens launches 'Imperfect', a sculptural paean to simplicity. It's her collection of sculptures, 'Imperfect', which greets the visitor in our front gallery and we're delighted to be widening our remit with work such as this."
Says Janie, "Direct carving is a way of freeing the spirit – my own, and the spirit of the stone. I really enjoy observing how the stone changes as the light falls – pure alchemy! My work is hand carved, original and above all tactile. Sculpture is not just for the eyes; touch, feel and stroke too and connect with the natural stone.
I take inspiration from Hepworth, Moore and Cragg. I am driven by shape, tactility and emotion, three-dimensional form excites me as I continually test my understanding of the natural world. I work with local quarried stone – both in limestone and soapstone.
My aim is to create art that seems incomplete, impermanent and imperfect, which therefore aesthetically has no limitations to its beauty and simplicity."
Greg points to the exhibition in the back gallery. "This is a pleasing counterpoint to the exhibition in the front room. It's the art of Harry Malkin. Harry is an ex-miner and knows exactly what it is to work chest deep in freezing black water one mile underground. These portraits of a rapidly vanishing world from a true draughtsman are a crucial part of Britain's recent heritage. The art is right here in York's city centre contemporary gallery. So if anyone needs a contemporary reason to visit their favourite heritage city, this is it."
Harry's art is here:
https://accordingtomcgee.com/collections/harry-malkin
---